Any property owner renting one or more rooms or homes in Ottawa County to transient guests is required to register for the Ottawa County Lodging Excise Tax.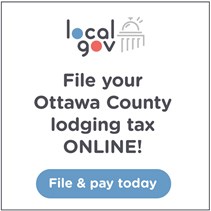 Tax and Regulations
For the purpose of providing revenue with which to meet the needs of Ottawa County in making contributions to the convention and visitors' bureau operating within the county, an excise tax is hereby levied on transactions by which lodging is or is to be furnished to transient guests.
The tax is three percent (3%) on all rents paid or to be paid by the transient guest for the lodging. A transient guest means a person occupying a room or rooms for sleeping accommodations for less than thirty (30) consecutive days.
Within thirty (30) days after commencing business, each operator of any establishment renting lodging to transient guests shall register said establishment with the Ottawa County Auditor and obtain from the auditor a "Transient Occupancy Registration Certificate" to be posted on the premises. Registration requirements includes but is not limited to hotels, motels, bed and breakfasts, cottages, cabins, condominiums, and vacation homes. Information booklets and registration forms are available at the Ottawa County Auditor's office.
File & Pay Lodging Excise Tax and Submit your Registration Form Online
Register, File, and Pay online through Localgov at  https://lata.localgov.org.
Ottawa County's lodging taxpayer community can now take advantage of Localgov, a business-friendly online tax filing & payment platform that offers greater convenience and flexibility.
To access Localgov, taxpayers must set up a free account which takes only a few minutes. Then, simply complete the online form for Ottawa County and select a secure payment method, such as ACH, credit, or debit card.
To register your lodging establishment with the County and receive a Transient Occupancy Registration Certificate, you must fill out the Auditor Lodging Tax Registration form on Localgov.
Businesses operating in Tax District 024 should fill out the Put-In-Bay Township form and businesses operating in Tax District 025 should file out the Put-In-Bay Corp form. All other districts should file the Lodging Tax Remittance form.
To file your taxes successfully, you need to enter your correct Certificate Number. ALL Certificate Numbers have CHANGED. The NEW format of your Business Certificate Number must be entered as follows:
Please use the tax returns above for Lodging Excise Taxes.